Approach
We take a strengths and stories based approach to build on what is working, to bring out skills and abilities and help people build strong and trusting relationships.
A combination of different methods and approaches are used to achieve the best possible result for each and every project.
Our Story
Helen Nicol created Blue Chula to make best use of the skills she gained in the private, public and voluntary sectors, for the benefit of anyone wishing to improve their community, change or collaboration activities.  Her aim is to help increase independence, capability and resilience, whether in communities or in organisations.
Who we are
Blue Chula includes its founder, Helen Nicol, working alongside associates from different fields, who collaborate on projects as they are needed.  This means we can work both flexibly, effectively and provide real value for money.­
Let's have a chat…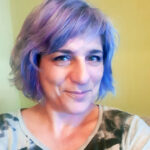 "I believe the best way to understand any problem, challenge, issue or opportunity is to talk about it.  So if you think I can help you, then just give me a ring, or email, or send me a text, or a direct message on Twitter.  I don't mind how you talk to me, as long as you talk to me.
I'm looking forward to meeting you."
Helen Nicol, Director